Gift Certificate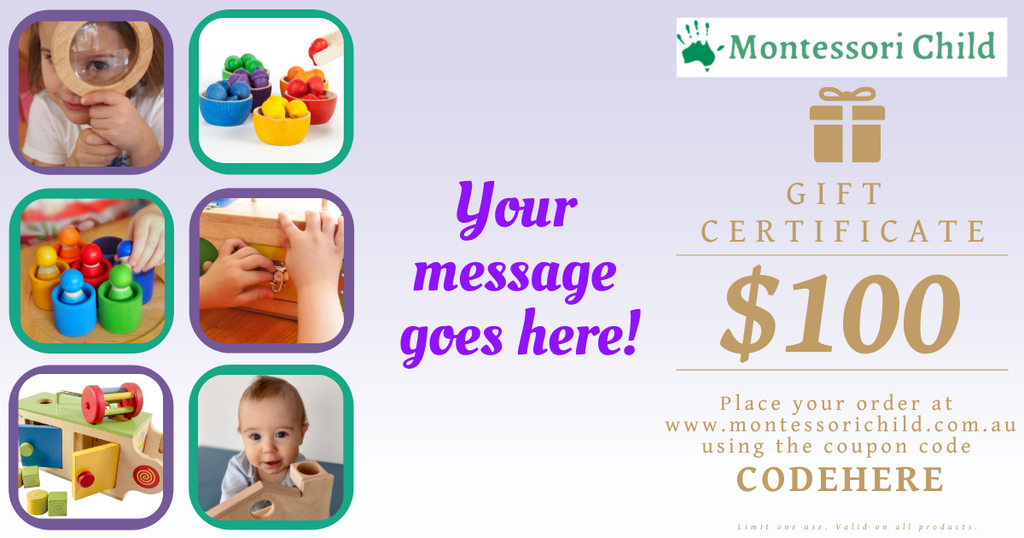 A Gift Certificate for your friend, relative or valued teacher to spend on tools, toys and treasures from Montessori Child.
A great idea for when you wish to give the gift of some Montessori magic, but you're not quite sure what to choose! 
Available in four values:
Other values are available by request. Please email us at sales@montessorichild.com.au if you would like to arrange a personalised Gift Certificate value. 
Purchase the Gift Certificate online and...
Choose between a DIGITAL or PHYSICAL certificate. Digital Gift Certificates are sent via email, physical Gift Certificates are printed and laminated to create a tangible present.
Choose to have the Gift Certificate delivered directly to the lucky recipient (via email or post) or to be delivered to you to pass along. 
Choose a personalised message to include on the Gift Certificate (optional).
Simply use the 'Order Note' section during checkout to specify your preferences for the aforementioned options!
Please note: The gallery image is for illustrative purposes only. Real certificates will include a unique coupon code which the recipient applies during the checkout process.