Butterfly Planting Set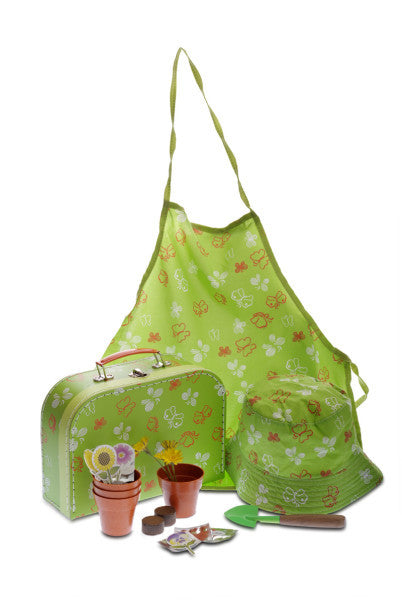 A cute starter set for the very-little gardener in your life. This is an all-in-one outdoor set for toddlers who are showing a blossoming interest in tending to the garden. 


The Butterfly Gardening Set consists of:
Apron
Sun Hat
Tool Bag
Mini Rake
Mini Trowel (flat edge)
Mini Trowel (tapered tip)
Water Spray Bottle
The Apron features 4 pockets along the base, perfect for storing small/light objects such as packets of seeds. It also has an adjustable tie around the waist to help it fit securely. Unfortunately the neck tie is fixed but it could be twisted into a knot or clipped to make it shorter as needed.
The Sun Hat is a 'bucket' style hat so it offers a brim all the way around, providing protection from the sun. We highly recommend using the hat in conjunction with other protective measures such as sunscreen. 
The Tool Bag features one large interior pocket and 7 smaller pockets around the exterior of the bag. These comfortably accomodate the included tools and spray bottle but also leave room for other gardening gear such as seeds or gloves. Five of the exterior pockets also feature elastic straps to help hold the tools in place. The bag itself has two handles so the child can successfully carry it through the garden.
The mini tools feature smooth wooden handles with metal trowels/rakes.
The Water Spray Bottle is a miniature but fully-functioning spray bottle. It provides a great chance for a child to develop strength and dexterity in the hands and fingers. It is a useful tool for the garden but is particularly ideal for indoor plants. Using a watering can on an indoor plant requires a great deal of self-control and attention to detail to ensure that the plant is not overwatered. This can be challenging for a toddler and so the Spray Bottle provides an introductory level that sets the child up for success. 
The Apron, Hat and Bag all feature a delightful pattern, either of coloured ladybugs and flowers or butterflies. The colour pink is certainly quite prominent in the Ladybug set but this is not intended to be just for "girls". At Montessori Child we promote gender neutrality. It is true that many little girls love the colour pink but we know that girls and boys alike will love the green tools, the green, pink and yellow ladybugs and the red and green bag. The Green Butterfly set is not intended to be the "boy" version, just another lovely option for any little individual! In fact, since this set is intended for toddlers it is an ideal time to help little individuals develop a positive perspective! The belief that "pink is for girls" is an attitude, not an instinct, so we can guide our little ones towards the belief that all people are able to wear/use all colours!