Baby Hair Brush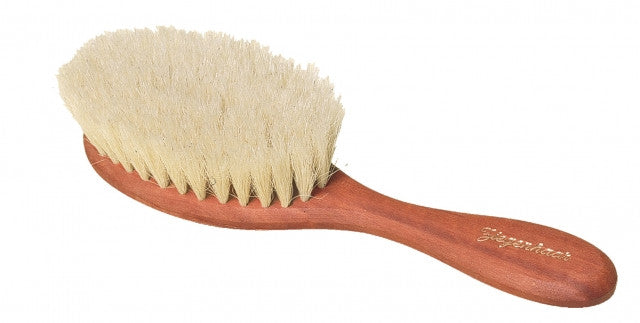 An extremely high-quality and gentle Hair Brush to care for the hair of even the most sensitive little ones.  
The brush handle is made from sustainable beechwood, with a light lacquer giving it a beautiful, rich colour. The natural bristles are made of the softest goat hair.
Any parent or carer who has tried to brush an infant's hair knows that the experience can be either a beautiful bonding experience or a frustrating challenge. The use of this gorgeous brush helps to ensure that the former will be the more likely outcome! The bristles are so soft that you can avoid any snags or pulls and just allow the tiny bub to enjoy the beautiful, sensory experience of feeling the soft bristles gently massaging the scalp. As the child relaxes into this soothing sensation the important task of keeping the hair smooth and silky becomes a positive interaction between a happy infant and a caring protector. 
As the image shows, the bristles are so soft that even the lightest touch of a single fingertip results in the finger being enveloped in the flexible, gentle bedding.
For older children (of Pre-school age), using the Hair Brush is a valuable opportunity to further a child's understanding of 'care of the self'. In addition to the physical benefits it is also a lesson in self-respect.  It also reminds the child that there are parts of his or her body which do not consciously register in the field of vision. It seems obvious to an adult that we need to wash the parts of our body that we cannot see, but a child might never have thought twice about the fact that there is more hiding in places the eyes don't notice! As the child reaches back to run the soft bristles down from the back of the scalp to the end of the hair there is a sudden conscious realisation of the existence of this part of the body. The child's understanding of the 'self' becomes more whole!
The Baby Hair Brush is part of the 'Redecker' range. Redecker is an internationally renowned line of brush ware. Each Redecker brush is carefully handcrafted in Germany. Redecker has been making brushes for more than 75 years and they are sought-after all over the world as 'the best of the best'. They make brush ware for adults too but we particularly appreciate the fact their range of brushes for children show the same impeccable level of quality and craftsmanship. Redecker treat their children's range as a miniature versions of the adult tools, deserving of just as much aesthetic beauty and effective functionality. We value this very 'Montessori' perspective and we are immensely proud to stock this range.