Cat Brush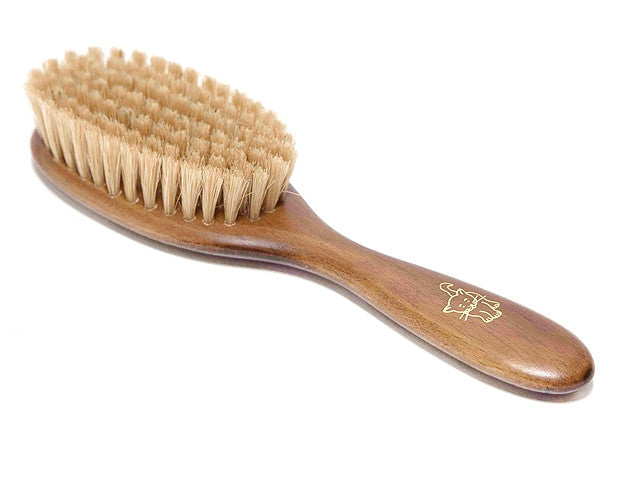 An extremely high-quality and durable brush for caring for the furry friend in your child's life! Caring for animals provides a bounty of benefits for your child and we invite you to read our Blog post on the topic.
The Cat Brush measures approximately 18.5cm. The handle of the brush is made from sustainable sources of beechwood and is beautifully lacquered. This makes it more durable - it might be the only brush your cat ever needs! The end of the handle also features a cute insignia of a little golden cat. 
The Cat Brush features soft natural bristles so your child will be able to care for your cat in a gentle manner.
As a side note, empowering a child to care for a cat's coat can be a good way of reminding your child of the importance of caring for his/her own hair. Some children can be a little reluctant to brush their hair (or let a parent brush it). By using the Cat Brush to care for a pet the child can observe the change in texture and style of the cat's hair. This is something that often doesn't occur when an adult brushes the child's hair, as it is not always done in front of a mirror so the child feels the pull of the brush without noticing the benefits. As the child brushes kitty's hair he or she will see it becoming less tangled and more shiny. This can help the child accept the need to brush his or her own hair too.
This Cat Brush is fully functional and completely effective, so there is no need to view it as 'just' for children - it can be used equally by all ages. 
The Cat Brush is part of the 'Redecker' range. Redecker is an internationally renowned line of brush ware. Each Redecker brush is carefully handcrafted in Germany. Redecker has been making brushes for more than 75 years and they are sought-after all over the world as 'the best of the best'.