Child's Bath Brush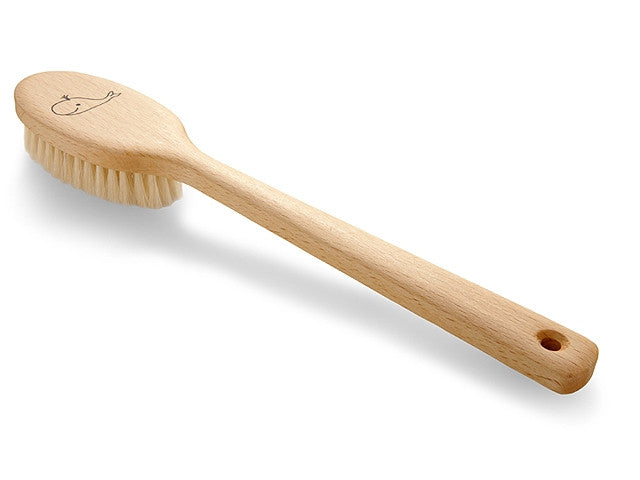 An extremely high-quality Bath Brush for children to use to start to take a more empowered and independent role in 'care of the self'. The 30cm long Bath Brush features a handle made from sustainable sources of beechwood. The soft natural bristles are gentle on the skin but still effective in cleaning. There is also a cute whale motif of the handle (very appropriate for bath time!).
As my Montessori helper shows, the Bath Brush enables a child to comfortably reach parts of the body to promote cleanliness, health and hygiene. 

The Bath Brush is, of course, intended for use in the bath but in the interest of personal privacy it is not appropriate for me to include images of a bathing child in the product description! 
Using the Bath Brush is a valuable opportunity to further a child's understanding of 'care of the self'. In addition to the physical benefits it is also a lesson in self-respect.  It also reminds the child that there are parts of his or her body which do not consciously register in the field of vision. It seems obvious to an adult that we need to wash the parts of our body that we cannot see, but a child might never have thought twice about the fact that there is skin hiding in places the eyes don't notice! As the child reaches back to place the soft bristles on his or her back there is a sudden conscious realisation of the existence of this part of the body. The child's understanding of the 'self' becomes more whole!
The Child's Bath Brush is part of the 'Redecker' range. Redecker is an internationally renowned line of brush ware. Each Redecker brush is carefully handcrafted in Germany. Redecker has been making brushes for more than 75 years and they are sought-after all over the world as 'the best of the best'. They make brush ware for adults too but we particularly appreciate the fact their range of brushes for children show the same impeccable level of quality and craftsmanship. Redecker treat their children's range as a miniature version of the adult tool, deserving of just as much aesthetic beauty and effective functionality. We value this very 'Montessori' perspective and we are immensely proud to stock this range.