Cube Chair by MAN Made Creations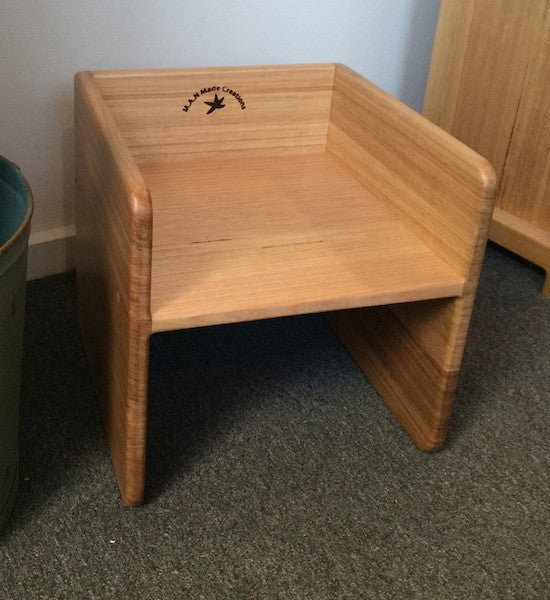 The cube chair is a versatile investment piece. The chair transforms into a table with a simple turn. The lightweight design ensures that your child can take responsibility for arranging, rearranging and packing away the furniture according to his or her activity choices. The seat of the chair is asymmetrical so that it can be used at two different heights simply by turning the chair 'upside down'. This allows the chair to 'grow' with your child!
The Cube Chair by MAN Made Creations - click here to order online.
$135 for a single cube chair, $125 for additional chair(s) ordered in the single transaction. 
Please note: All orders are processed directly through the manufacturer - M.A.N Made Creations - not through Montessori Child. To submit your order please visit http://www.manmadecreations.com.au/index.php/monte-cube-ea-montessori-cube-chair.html
If you have any queries about the Cube Chair please feel free to click 'Enquire Now' and we will forward your details to MAN Made Creations who will contact you with further details. Alternatively you can email them directly on info@manmadecreations.com.au.
Quick Overview
Solid Australian Hardwood Fully Constructed Montessori inspired CUBE CHAIR with Hand Rounded Edges.
Approx. size 320 x 320 x 320mm (Qty Each)
Approx. weight each 4.4kgs
**Please add GST and allow for freight
We are proud to feature this Australian-made Cube Chair. The design, and crafting of each chair, is by 'M.A.N Made Creations' - a small family-run business located in Melbourne. Montessori Child partners with M.A.N Made Creations to help families and educators to discover and access Montessori-inspired furniture.
Montessori Child does not physically stock the Floorbeds for Fae furniture. Instead we send enquiries directly to Viv and Michael, the husband-and-wife team behind M.A.N Made Creations, and they process all orders. This allows us to keep the cost of the furniture as affordable as possible because you receive the item "factory-direct". We also feel it is more environmentally friendly to ensure that the furniture goes straight from the workshop to your door, rather than taking a detour across the country to Montessori Child here in Adelaide! 

Please note that 'Montessori Child' discounts, special offers, competitions and coupons do not apply for furniture items by M.A.N Made Creations. As we do not physically stock the furniture, and do process orders for these items, we are unable to authorise any discounts or special offers. M.A.N Made Creations items are not eligible for our Montessori Child flat-rate shipping fee. All shipping charges are determined by M.A.N Made Creations based on your delivery address.