Large Ammonite Puzzle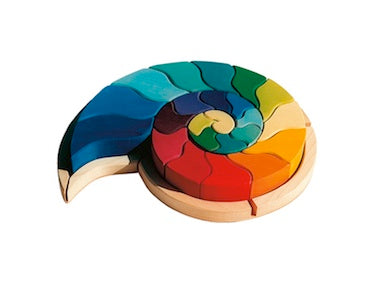 These strikingly beautiful puzzles invite a child into activity with their attractive aesthetic and keep them engaged with their challenging formations and open-ended applications. 
The chunky, attractive pieces can also be used as building blocks or for making patterns. There are endless possibilities for a child to arrange, rearrange and create using these colourful solid pieces.

A child making 'waves' (and a little yellow 'boat' to sail on the waves) using pieces from the Ammonite Shell puzzle. 
The large dimensions and beautiful colours also make the puzzles something of a statement piece - a functional work of art! 
A Large Ammonite Puzzle makes a perfect gift because each one comes beautifully presented in its own box. It is such a unique and striking piece that it would truly stand out as a beautiful, thoughtful present for a child's birthday.
The Ammonite Shell is an engaging and challenging experience. It relies on an observation of three features; colour, size and shape. The pieces subtly increase in size from the inner point of the spiral to the exterior, the shades of colours connect harmoniously and each piece has a unique 'shape', mirrored by its partners to either side, like a typical jigsaw puzzle. A child can use these attributes, as well as some 'trial and error', to help place the pieces correctly around the spiral frame. 
The Ammonite Puzzle measures (at its widest points) 26cm x 31cm with a heigh of 4.5cm.

Problem-solving with the Ammonite Shell puzzle.
The large size of the puzzle, along with the fact that there are many pieces to place, seems to naturally invite collaboration between peers.
The puzzle is from Grimms Spiel und Holz design. Grimms is a world-renowned brand specializing in high-quality, engaging and whimsical children's resources. All of the Grimms products certainly encapsulate the famous Germans sense of craftsmanship and precision. Grimms has a strong respect for the beauty and power of wood (as did Maria Montessori) and they particularly acknowledge the way that wood interacts with the child's senses. As such, Grimms choose to only varnish the wood with subtle colours and oil so that the grain of the wood remains somewhat visible and it retains its rustic appeal.
The wood used in the Large Ammonite Puzzle is sourced from sustainably managed forests in Europe. All colours and oil varnishes are safe and non-toxic and comply with international safety standards.