Hydraulic Cherry Picker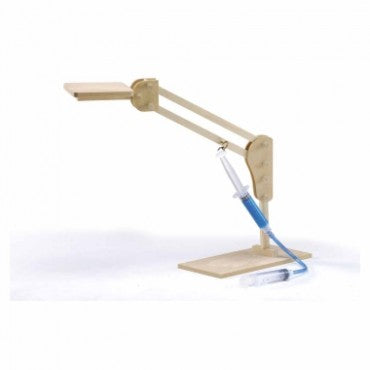 The best materials for children are those which engage the "whole" child. The 'Green Beetle' range of Hydraulic machinery certainly provides an extremely holistic activity, simultaneously captivating the hands, the senses, the mind and the imagination! 
The exploration starts as the child begins to construct the machine from the natural wooden pieces before adding the "hydraulic" features. The hands, mind and eyes are all simultaneously engaged, promoting cognitive function, problem-solving, hand-eye coordination and fine motor control. Younger children may benefit from support from an adult during the construction process while older children may enjoy the challenge of completing this task independently. 
Once the practical, sensory work of construction has been completed it is time to move on to the scientific stage. The child applies and strengthens fine motor control through depressing the plungers on each syringe and, through the power of hydraulics, the machine is suddenly in motion! A whole world of mechanics is right there in the child's fingertips!
My favourite aspect of this machine is that it is functional. Many young children love to "role-play" construction activities, but as Maria Montessori identified there is greater satisfaction, joy and meaning within real, practical experiences rather than pure "fantasy". Maria Montessori chose to provide her students with real utensils to cook real food, rather than toy food to play pretend, and now we are able to provide children with real tools to experience machinery rather than toys to simply pretend with. With the Cherry Picker, and the other Hydraulic Machines, a child can genuinely pick up and maneuver objects into place to truly witness construction principles in action. 
The presentation of hydraulics as an energy source also provides an introduction into the world of alternative and sustainable energy. It is never too early to begin supporting a child's developing interest in eco-friendly principles and practices.  
The ethos behind this range also harmonises perfectly with the Montessori philosophy of providing hands-on experiences to introduce cognitive concepts. In fact, as this excerpt from their statement of principles shows, the principles behind this range are in alignment with the intentions of Maria Montessori herself:


"Green Beetle....will continue to support and develop products that;
Require kids to problem solve and challenge themselves as they play
Provide a way for children to contribute and customize their learning outcome
Allow for parental involvement if desired and cooperative/group play with friends
Stimulate and develop a child's fundamental tactile senses … that sense of materiality
Provide levels of play and fun beyond simply looking great
Are environmentally sound providing suitable longevity, user-repair, reuse and disposal
Encourage trial and error learning rather than a prescribed guided solution"