Rolling Pin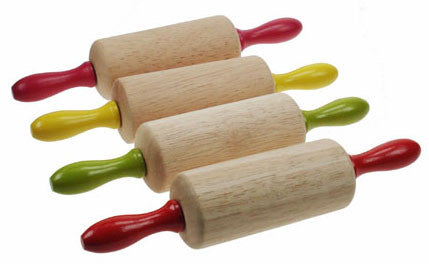 Please note: Each Rolling Pin is sold separately - please remember to select your colour preference from the drop-down menu!
A sturdy and functional tool to support a child's involvement with cooking and food preparation!
These Rolling Pins feature a beautiful natural wood grain with coloured handles as an appealing 'point of interest'. 
A child can use the Rolling Pin at home, or at school, to roll out dough for nutritious meals or sweet treats (such as the vanilla biscuits being made in the photos below!). 
It requires a surprising amount of dexterity and control for a child to effectively use a rolling pin. It is quite an engaging challenge to learn to place the correct amount of pressure to flatten the dough without making it wrap around the rolling pin. Pre-school children can use the Rolling Pin to practise and acquire this skill while assisting parents or teachers with baking. Older children can refine their skills through increasingly independent cooking tasks.