Rolling Rain Drop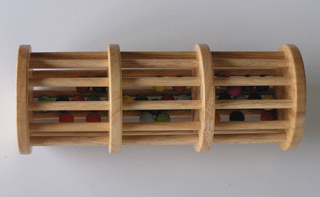 This beautiful rainstick enables the child to see the balls falling through the three levels. It provides sensory stimulation for the eyes and ears simultaneously, as the colourful wooden beads create a pleasant and subtle sound as they trickle down. 
The Rolling Rain Drop can also become part of your child's gross motor development. It can be introduced to coincide with the emergence of crawling skills - the child can push the Raindrop along on its side and eagerly 'chase' after it. The rattling sound it makes as it rolls provides an inviting point-of-interest that intrinsically motivates the child to keep pursuing it. 

The Rolling Rain Drop measures approximately 12cm W x 12cm L x 20cm H. 

All materials are child safe and non-toxic, with natural wood taking centre-stage!