Uppercase Letter Magnetic Tracing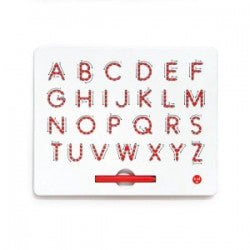 A fun way to encourage fine motor control, pincer grip and uppercase letter recognition!
The Uppercase Letter Magnetic Tracing board is a highly engaging pre-writing exercise for children. 
Don't forget to view our Lowercase Board, our Numeral Board and our Free-draw Board.
When Dr Maria Montessori was first selecting the materials that would become an integral part of her methodology she performed a simple yet ingenious experiment. She placed an array of objects, tools, toys and materials on the shelves and then...she watched. The items that were consistently and frequently chosen and used by the children were those that she deemed worthy of remaining part of every 'Montessori classroom'. I can't help but think that if Dr Montessori had placed these magnetic tracing boards on her shelves we would now see these in every Montessori classroom! Certainly in my own Montessori classroom they are infinitely popular - I put them on the shelves each morning but they don't spend much time there; they spend most of the day in the hands of eager children! 

The set of magnetic tracing boards help to promote fine motor control and hand-eye coordination. The magnetic pen provides an ideal opportunity for a child to refine the 'pincer grip' in a fun way that doesn't feel at all daunting. The printed letters provide a chance to reinforce visual recognition of the alphabet. Since the board can be written and reset countless times this board also offers endless opportunities for repetition to help encourage concentration.

I particularly appreciate the sensory experience that occurs after the 'writing' is finished. At this point the little magnetic balls essentially create a bumpy, textured pathway around each letter and to play the game again the child must reset the board by pushing these back down. As the child runs a finger along each letter the sensory experience is quite similar to what the child experiences when using the Montessori Textured Letters. The Textured Letters are intended to promote both a visual recognition and 'muscular-memory' and the same could certainly be said for the magnetic tracing boards.
Parents and educators alike will also appreciate the fact that this is a compact and portable activity. It is a highly engaging material with just two pieces - and the magnetic pen even tucks securely into the board, which helps to remind a child to pack it away and can prevent the pen from getting misplaced. For teachers this is useful because it stores easily on the shelves or away in a cupboard when not in use and also has a long 'lifetime' because pieces aren't going missing or falling apart. For a family this would be an ideal material to keep a child happily active and engaged on long trips in the car, or would fit easily into a handbag to be quickly pulled out when a child needs distraction while out and about.